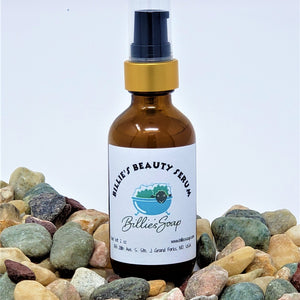 Billie's Soap & Spa
Billie's Beauty Serum
Regular price
$79.95
$0.00
Unit price
per
Billie's Beauty Serum was a true labor of love!  Tested in our private focus group for over a year, the cosmetic difference in fine lines and wrinkles was dramatic! 
Usually for serums with more than a few active ingredients you would pay over $75 per OUNCE!  This one is twice as big!!
This serum has over 3 DOZEN ACTIVE INGREDIENTS (seriously not kidding--you won't find ANY other serum like this anywhere else), including natural alpha and beta hydroxy acids, retinol (Vitamin A) ingredients, vitamins, and more...here are just a few:
Orange and Lemon Essential Oils and Fruit Extracts, Beet Sugar Extract, Algae Extract, Rosehip Fruit and Seed Extracts, Sugar Maple Extract, Papaya Leaf Extract, Cranberry Seed Oil, Carrot Seed Essential Oil and Extracts, and more....
You have to try this one to believe it.....compare us ounce-for-ounce or ingredient/active to active--then jump on this one.  It really is as cool as we are claiming ;-)
2 oz
Billie's serum
Love it! Keeps my creepy skin at bay
I bought a bottle in August and I love it! ❤️
Love the serum
Look forward to using this twice a day-lasts forever!
Good ingredients make for a good product
Another winner from Billie and Co.!
---