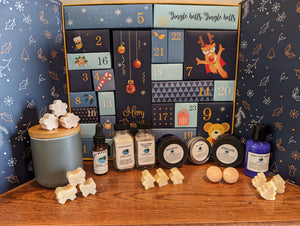 Billie's Soap & Spa
2023 Advent Calendar
Regular price
$164.99
$0.00
Unit price
per
Our much-anticipated 2023 Advent Calendar is finally here!  Filled with 28 of our customers' favorite products, this is a LIMITED EDITION drop.  We will sell 10 at this price, then 10 more at the regular price  ($164.95), and then we will have to wait until next year!  Find new favorites to love with a merry collection.   Don't read to the bottom if you don't want the surprise spoiled of what is inside 😉
If you bought all 28 products normally, they would coat over $500! Enjoy them here for just a fraction of that.  
And what a beautiful box....Merry Christmas and Happy Holidays for everyone who does other holiday traditions!  
Included are: Diva Tub Salts (Eucalyptus Soother), Triple C Serum, Pride of Dakota Soap, Himalayan Spa Soap, Mom's Silky Lotion, Mary Jane's CBD Lotion, Mini Bath Bombs, Moisturizing Body Scrub--Apricot Almond and Sandlewood Seasons, Herbal Shampoo, Candle (Assorted Scents), Booby Balm, Patchouli Shave Bar, Grandma's Laundry Soap, Margaritaville Soap, Billie's Botanical Facial Scrub, Lake and Woods Soap, Beauty Serum, Woof! Dog Shampoo, Pampered Pup Balm, Fine Fiber Friends dryer bag, Oatmeal Exfoliation Bar, Mint AND Plain lip balms, Shea's So Good, Oatmeal Milk Bath, Floral Salt Soak.  
25 gifts in one!
This was absolute fantastic buy and a great bargain.
---